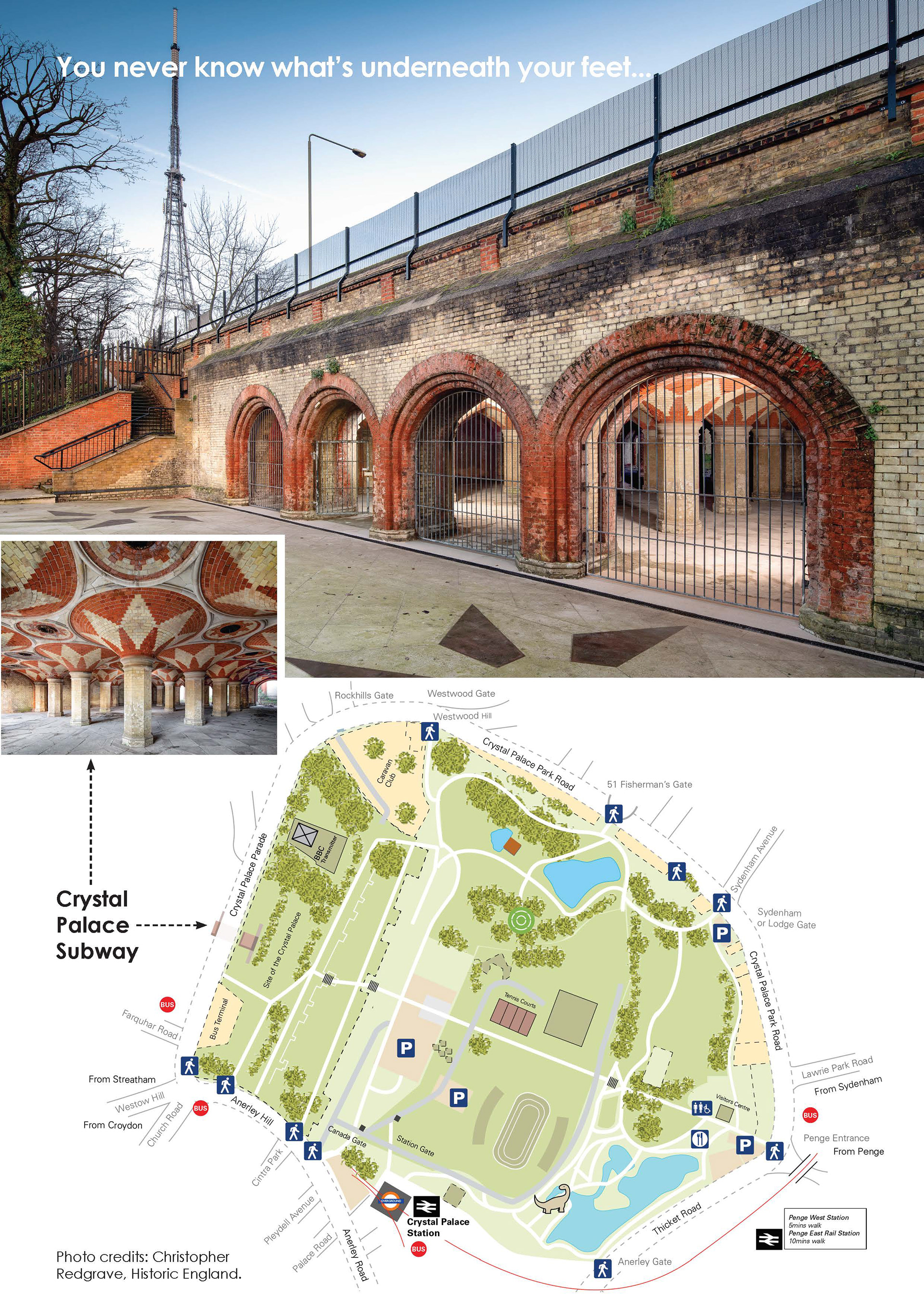 Borough of Bromley Content Release - 7th January 2022
Subway restoration in Crystal Palace receives planning permission 
Plans to restore the grade II* listed Crystal Palace subway were unanimously approved on Thursday at a Plans Sub-Committee, which will allow works to commence later this year.
The restoration works will see the repair of the Victorian subway, including the rebuilding of existing walls, construction of new parapet walls, and a roof structure. The design has been created by award winning conservation architects Thomas Ford & Partners, who took inspiration from the original structure, whilst ensuring the restored subway meets the needs of this important site in the modern day.
Councillor Katy Boughey, Chairman of the Plans Sub-Committee No. 3 said, "We are pleased to unanimously approve this application for well-considered restoration works. The proposed design is attractive and in keeping with the history of the subway, making good use of the available resources to preserve this valued structure. I look forward to seeing the restored subway in due course."
The proposed new roof will be visible from Crystal Palace Parade, with the subway exterior being made from glass and stainless steel, and the gable enclosed with Corten steel. It is envisaged that the following restoration works, the subway will be removed from the Heritage at Risk Register.
Councillor Peter Morgan, Executive Councillor for Renewal, Recreation and Housing said, "I look forward to seeing works begin on this important restoration, with grateful thanks to our valued partners Historic England and The Friends of Crystal Palace Subway who have helped bring about this welcome news. The history of this important structure has been reflected in the impressive design of the new subway roof, which will also be fit for purpose in the 21st Century. It is essential we carry out these works in a timely manner to preserve this cherished subway for years to come and ensure it does not deteriorate further, with this restoration also contributing to the regeneration of Crystal Palace Park."
The estimated £3.2m cost of restoring the subway follows successful grant allocations of £2.3m from the City of London Strategic Investment Pot and an additional £500k from Historic England. Contributions to the works are also coming from the Friends of Crystal Palace Subway. 
The subway first opened in 1865 and is located to the edge of Crystal Palace Park under the Crystal palace Parade and is 
one of the last original Crystal Palace structures and is much loved by the community, with its own dedicated Friends' group. The subway will be able to reopen following completion of the works, to be viewed by its local and international following.
London Borough of Southwark continue to be involved in the restoration project. A planning application covering restoration works to small parts of the subway that lie within the borough of Southwark has also been submitted to the Council.